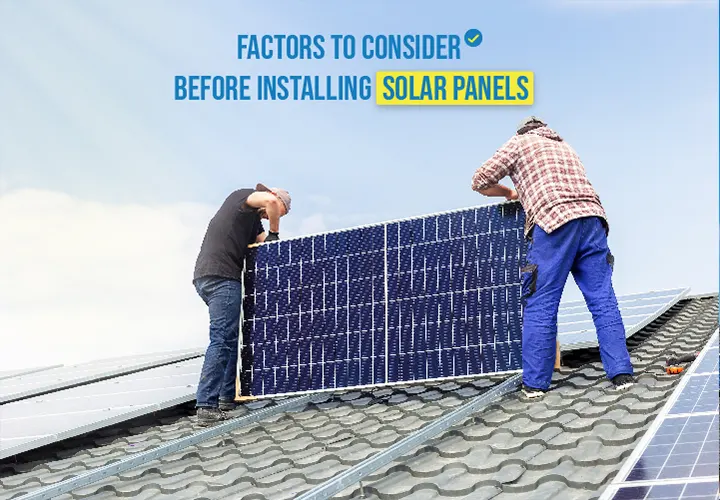 Are you outfitting your roof with solar panels? Why not? Especially when they are going to reap long-term benefits while saving your monthly power expenses. Besides improving your home's energy efficiency, solar is a wonderful way to reduce your carbon footprint. Every big decision needs some thoughtful planning and thorough considerations. And solar installation for home is no exception. As installing these panels involve a handsome investment, you must explore every petite aspect of the process to make an informed decision. For your ease, below mentioned are a few factors to consider before installing solar panels.
Know your Rooftop
Inclination and location of your rooftop is the primitive factor that determines the efficiency of a Rooftop Solar Panel for Home. The roof needs some restrengthening, nearby shade that barres sunlight from reaching your roof, and too much or too little roof inclination; these are only a few crucial considerations before installation.
Your Power Consumption Matters
While some households have high consumption of air cooling devices, others have greater utilization for cooking purposes. This determines the average power consumption of every home and the size of the installation.
What about the Durability of the Solar System?
Partnering with a licensed solar installation company in Tamilnadu will set the seal on equipment quality and durability of the system. Poor quality equipment will hamper your system in the long run and affect energy production.
An Eye for the Cheaper or Better
The solar panel installation government scheme has catalyzed the demand for panels. With a growing market, buyers are bewildered by the myriad solar installation companies to partner with. While some promise the best quality, others boast their affordability. Before choosing their installation partner, we encourage every homeowner to educate themselves to validate their credentials.
By considering these factors before installing solar panels, you can ensure a smoother and more rewarding transition to a sustainable and eco-friendly energy solution for your home. As a leading Solar Installation Company in Tamilnadu, KCP Solar takes pride in its dominance in the industry. Our skillful team takes care of every pre-installation criterion and suggest you the best possible solar system for your rooftop in your budget. Get a quote today.